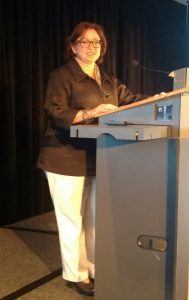 Dr. Kosova and Dr. Reid both lectured at the International Federation of Podiatrists (FIP) World Congress.  The FIP World Congress of Podiatry is the premier foot and ankle conference of the International Federation of Podiatrists (IFP)/Federation Internationale des Podologues (FIP). Since the inception of the World Congress of Podiatry in 1966, this world class event serves to be the largest gathering of international podiatrists who joined together as colleagues from over 40 countries. The conference featured over 90 oral and poster presentations, interactive workshops and an exhibitor hall of over 100 podiatric servic
e providers from around the world.
Dr. Kosova spoke presented a case study  of a young national champion dancer on whom he performed a specialized surgical repair of an acute lateral ankle sprain.  Dr. Reid spoke on both venous disease with an understanding of the anatomy and etiology of chronic venous insufficiency,  and on chronic pain and how chronic musculoskeletal problems differ from acute problems.