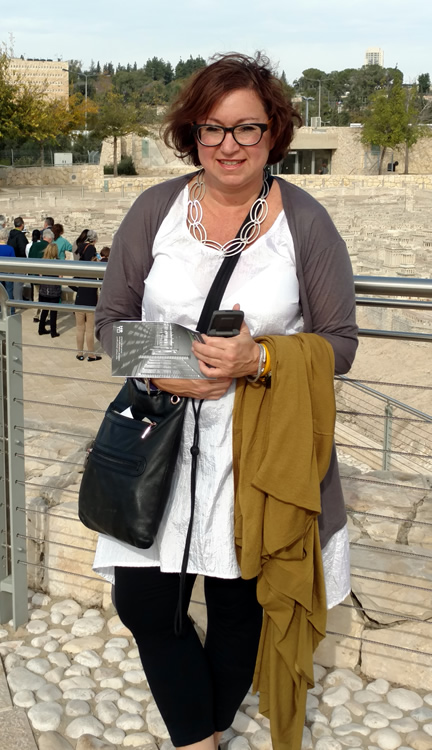 Dr. Marlene Reid of Family Podiatry Center in Naperville, IL recently traveled to Israel for the American Healthcare Professionals & Friends for Medicine (APF) in Israel Podiatric Scientific Seminar.
Reid, co-chair of the scientific and academic meeting, approached the AFP late in 2013 with the idea of setting up a podiatric seminar in the country as there had not been a program for podiatric physicians and surgeons in Israel in over twenty (20) years. Together with the AFP staff and board members, Reid planned the twelve day conference and touring program. More than twenty five podiatric surgeons from the US, Canada and Israel participated in the meeting.
AFP provides annual missions in Israel for physicians in Emergency Medicine. The podiatric mission included several visits to three major medical centers and an Israeli Air Force base which highlighted the country's ability to treat patients in any and all adverse situations including combat situations. Underground hospital emergency rooms and advanced trauma and technology departments at Ram Bam Health Care Campus in Haifa, the Medical Center of the Galilee and Soroka Medical Center, in Be'er Sheva exemplified Israel's advanced and unparalleled ability to care for the wounded – both Israeli's and Arabs alike.
Dr. Reid also had an opportunity to reconnect with a pain specialist from Israel whom she had met previously to exchange ideas and treatment protocols for patients experiencing chronic pain. Her practice at Family Podiatry Center in Naperville is based on heavily on patients with chronic pain. Reid presented multiple lectures at the conference and speaks across the country on chronic pain and both acute and chronic tendon problems.
Dr. Marlene Reid has owned Family Podiatry Center with her husband and partner Dr. Larry Kosova and served the Western Suburbs for over twenty five (25) years.
Dr. Marlene Reid is currently a Board of Trustee for the Illinois Podiatric Medical Association as delegate to the APMA and a board member of the Illinois Podiatric State Licensing Board. She is a former Trustee to the American Podiatric Medical Association (APMA) Political Action Committee, a past president of both the Illinois Podiatric Medical Association and the American Association for Women Podiatrists. Dr. Reid is also a former Chairman of the APMA's Public Education and Information Committee and the former Director of Medical Education of Chicago's Sacred Heart Hospital's Residency Program. Dr. Reid was named several times in the Podiatry Management's list of America's Most Influential Podiatrists and is a Distinguished Practitioner of the National Association of Practitioners and its National Podiatric Chair.